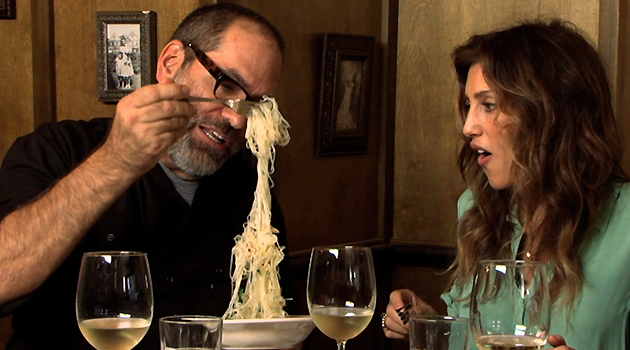 Chef Frank Prisinzano, shares his Gluten Free recipe for Jennifer Esposito's favorite dish at Sauce.
Potato Linguine
with garlic, oil, parsley and pepperoncino
INGREDIENTS
2 medium sized Idaho potatoes
3 cloves of garlic sliced super thin lengthwise
4 ounces high quality extra virgin olive oil
3 T of roughly chopped Italian parsley
1 T crushed red pepper flakes
Coarse sea salt
METHOD
Using your "Turning Vegetable Slicer" create your Potato Linguine and immediately submerge it in cold water so it does not turn brown.
Bring approximately 1 gallon of abundantly salted water to a boil in a nice size pot. Grab a strainer that will fit inside the same pot.
After your water is rapidly boiling,  In a sauté pan put your Olive Oil and your Garlic and put the pan on medium heat. When your Garlic just starts to turn brown in the Oil add you Red Pepper Flakes and remove from the fire. Let the Garlic carry over cook off the fire just until its completely brown then add about 2oz of your boiling salted water to it and immediately cover it to let it steep.
Put your Potato Linguine in your strainer and submerge it in the boiling salted water. Let it cook for no longer than one minute, remove and dump it right away into your steeping Garlic and Oil sauce. Put the sauce pan back up on the fire add all your parsley saute it quickly just until hot and adjust the salt to taste.
If your diet allows serve the Potato Linguine with grated Pecorino Romano Cheese, and Black Pepper. We also like to serve this dish sometimes with a fried egg on top.
Sauce is located at
78 Rivington, Street
New York, NY