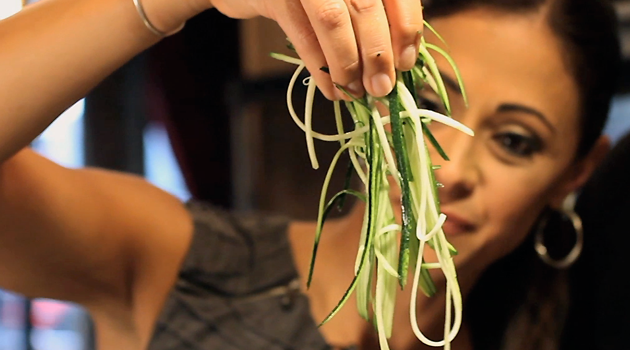 Chef Frank Prisinzano, owner of Sauce Restaurant shares his recipe for Zucchine Limone seen in the Jennifer Esposito episode.
Zucchine Limone
(Dairy free version)
Makes 2 Portions
INGREDIENTS
4 medium sized zucchini
1 lemon split in half
4 ounces excellent quality extra virgin olive oil
Coarse Sea salt
White pepper
METHOD
Bring approx 1 gallon of abundantly salted water to a boil in a nice size pot. Grab a strainer that will fit inside the same pot.
Wash your Zucchini thoroughly making sure there is no dirt left on the skin. Use a julienne peeler (available at any good cooking store like Sur La Table or Broadway panhandler) to make Zucchini Pasta by using the peeler and traveling lengthwise up and down the whole Zucchini rotating the Zucchini when you reach the center where the seeds are and continuing until only the seeded center of the Zucchini is left.
Put your freshly cut Zucchini Pasta into your strainer and submerge it into your boiling salted water for 30-40 seconds. Remove quickly leaving the Zucchini wet and put it into another small sauté pan. Immediately squeeze your Lemon in, your Extra Virgin Olive Oil then adjust your Salt and season with White Pepper
Serve hot with more Olive Oil on top and if your diet allows freshly grated Parmigiano Cheese.
* You may substitute Butter for Olive Oil in this recipe if your diet allows.
Sauce is located at
78 Rivington, Street
New York, NY.