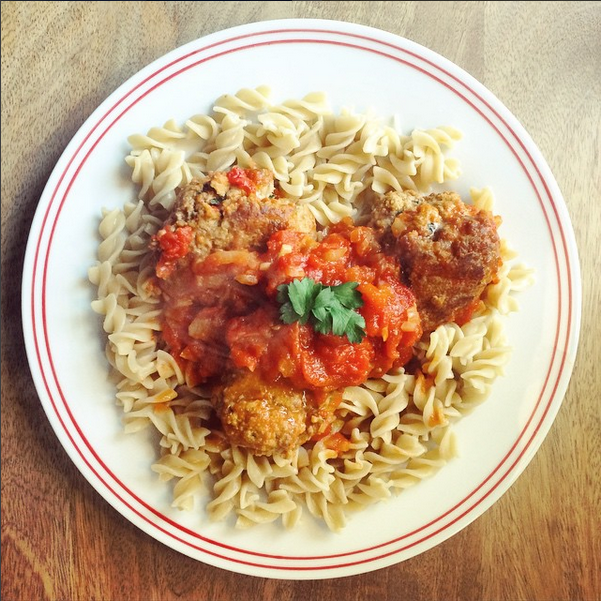 Our very own Kaitlin Monte tested it out and gave it two thumbs up!
INGREDIENTS:
Rao's Marinara Sauce – 3 Packs or Cases
1 Cup Rao's Extra Virgin Olive Oil
1 Pound Ground Lean Beef
1/2 Pound Ground Veal
1/2 Pound Ground Pork
2 Large Eggs
1 Cup Freshly Grated Pecorino Romano Cheese
1 1/2 Tablespoons Chopped Italian Parsley
1/2 Small Garlic Clove, Peeled And Minced
2 Cups Bread Crumbs
Some Lukewarm Water
Salt And Pepper To Taste
DIRECTIONS:
Combine beef, veal, and pork in a large bowl. Add eggs, cheese, parsley, garlic, and salt and pepper to taste. Using your hands, blend ingredients together.
Blend bread crumbs into meat mixture. Slowly add water until the mixture is quite moist.
Shape the meat mixture into balls (2 1/2 to 3 inch balls).
Heat Rao's Extra Virgin Olive Oil in a large sauté pan. When oil is very hot but not smoking, fry meatballs in batches. When bottom half of meatball is very brown and slightly crisp turn and cook top half. Remove from heat and drain on paper towels.
Lower cooked meatballs into simmering Marinara Sauce and cook for 15 minutes. Serve over pasta or on their own.
Rao's Restaurant
455 East 114th Street – NYC
www.raosrestaurants.com